TVC071 Fitpreneur with Pat Hollingworth
Feb 04, 2017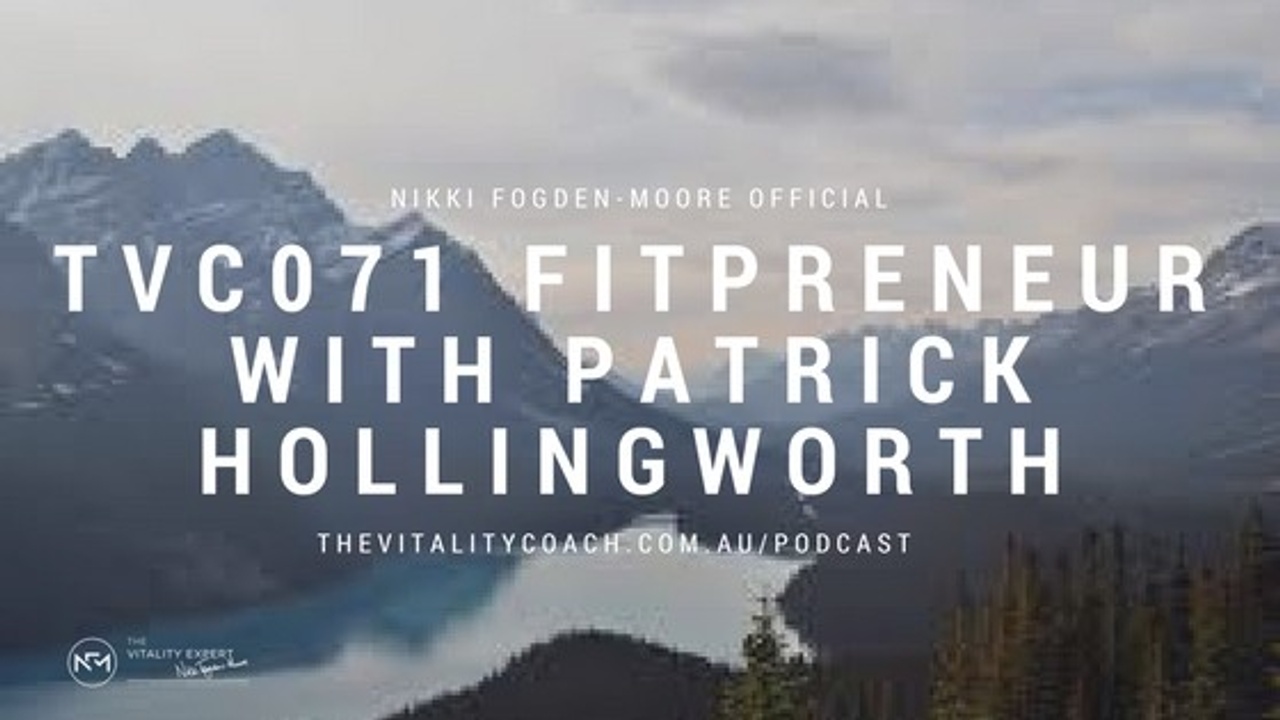 TVC 071 Fitpreneur Pat Hollingworth
Meet my guest Pat Hollingworth on episode 72 of The Vitality Coach podcast. Mountaineer, adventure chaser and corporate culture coach, Pat has summited multiple 8000 metre peaks, including Mount Everest and helped his Nepali Sherpa mates set up their own mountain-guiding business based out of Kathmandu.
Based in Australia, Patrick learned the art of alpine-style climbing in the mountains of New Zealand, Canada and France, and then the science of expedition-style climbing in the mountains of Pakistan, Nepal, Tibet, Alaska and Argentina.
He's seen the very best of what alpine style can offer, and also the very worst of what expedition style can deliver.
We've done a couple of great episodes together, and the second of which I am sharing first, hope you enjoy this discussion finding your Fitpreneur as a leader and the art of communication
Walk and talks, and why sometimes it's handy to understand that men talk side by side,
Sharing, connecting and ensuring we have being authentic in leadership and life
Using nature as a place for creativity, connection and problem solving
Are you leading with healthy, wealthy and wise
When the gold content really comes out in conversations and the bonds start to happen.
Fitpreneur Walk and Talks
Is traditional meeting room style really the way to go in authentic and effective communication?
What do you and you teams need to operate at you best:
one-to-one personal time to connect and to really sit down in front of each other

activities to allow greater scope and sharing

on the go short and sharp discussions

the regroup to take notes

longer strategy sessions
space for personality
all of the above
I just think that the traditional business approach is almost confrontational, where you're sitting across one another at a table. It's just that conversation tends to flow easier when you're walking side by side and to be honest, I don't only find that with men. I find that with women as well.
Fitpreneurs Mix It Up
Rather than fixing to one style of communication why not think about a blend of healthy, wealthy and wise that allows you to connect not only on a work front but with friends and family too:
Create a shared space
Integrate walk and talks
Organise a group activity away from your usual environment
Understand your team and how they like to perform, think and communicate
Understand your friends or family and how they like to perform, think and communicate

With experience comes personality and confidence to create the above opportunities - to think like a Fitpreneur. Being a great leader is being able to bring your personality back into the role again, and to be yourself, so that authenticity.
There's no covering up any perceived kind of deficiency, because every human being is wonderfully flawed. When you're in a really great team situation you don't hide any of that. That's the beauty of what it is to be human is to accept your own flaws and find your dream team around you, Pat
Fitpreneurs Take Time Out for Yourself.
Patrick does this a couple of ways and most of all by going into the mountains.
Whenever I go into the mountains, the rule is that I've got to come back out the mountains better. It's not clear how I've got to be better, but I've just got to have improved some way, because it's no longer good enough for me to go in the mountains for my own reasons, because that's not fair for my wife, or my family.
If I go to the mountains and I learn and I come back better, some how or other, through whatever the experience may have been, well, then that's been a worthwhile investment for me and then that pays dividends for my family, my wife, my business, and friends, and all that kind of stuff.
Fitpreneurs Create A Blend Of Environments, Time and Conscious Decisions
Learn how you connect, whether you're a leader in life or business, it really doesn't matter.

Figure out the best way that you like to have creativity in your ideas, align with your true self and be the best version.
If you don't create space to do that, either in the office or at home, then you're not going to be the best version of yourself, because you're going to be cramped mentally, physically, and emotionally.
We hope you enjoyed this episode with Pat and as always leave a comment or a message below. We'd also love your review on iTunes CLICK HERE for all the free episodes
Yours In Ultimate Vitality and Leadership
For more on Patrick:
http://patrickhollingworth.com/
You may also like
Your Ego is Not Your Amigo
Awareness With Trevor Hendy
Finding Your Fitpreneur The Book is Available NOW for special edition signed copies!